Please email / call us with the item / code you need for a quote.
Need Help? Click Here
AUDIO CAPACITORS
TAD axial electrolytic Audio Caps feature the authentic flat-foil design of the Capacitors used in the 1950's, 60's and 70's and come in the classic full size dimensions like vintage originals. The special flat foil design of these electrolytic capacitors improves tone with finest details and excellent overtones. Upgrades all kinds of tube guitar amps and Hi-Fi equipment.
TAD AXIAL ELECTROLYTIC AUDIO CAPS VALUES: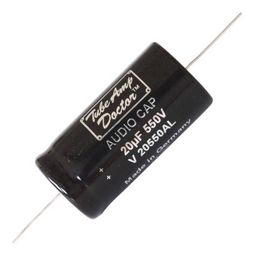 Code              VALUE   VOLTS     SIZE
V-20550AL        20uF    550V    49x25mmØ
V-70350AL        70uF    350V    49x25mmØ
V-220350AL     220uF    350V    50x30mmØ
Also available in 3 pin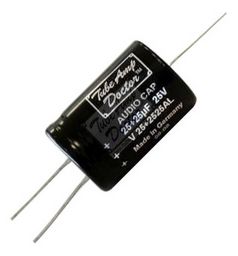 V-25-2525AL     25+25uF    25V    38x25mmØ
TAD Gold Caps in radial shape are especially made for those British amps. Aluminium electrolytic capacitor with cathode case.
LCR style construction with solder terminals.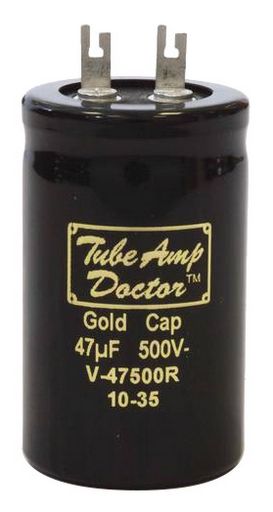 Code                  VALUE   VOLTS     SIZE
V-32500R               32uF    500V    60x25mmØ
V-47500R               47uF    500V    50x30mmØ
V-220350R            220uF    350V    60x35mmØ
V-1632500R       2+16uF     500V    52x35mmØ
V-3232500R      32+32uF    500V    50x35mmØ
V-5050500R      50+50uF    500V    75x35mmØ
V-100100500R 100+100uF  500V    80x35mmØ
Mounting clamps to suit radial capacitors (colour may vary):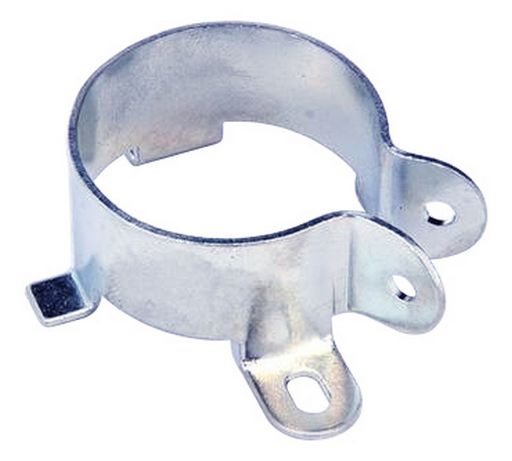 Code     DIAMETER
V-RI25     25mm
V-RI30     30mm
V-RI35     35mm
V-RI40     40mm
TAD Gold Caps in axial electrolytic capacitors which are used in all kind of tube amps.
These caps feature high temperature endurance (85°C or 105°C). 
Especially for cathode bypass caps for improved overtones and sonic performance.
BI-POLAR voltage axial gold caps improve over-tones and sonics with high temperature endurance.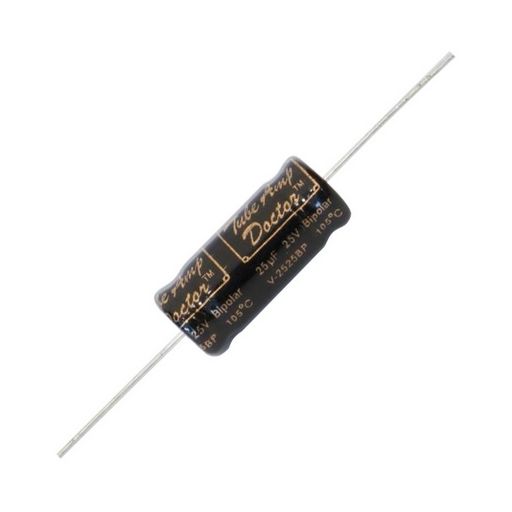 Code           VALUE     VOLTS     SIZE
V-2525BP      25uF        25V    19x10mmØ
V-25025BP    250uF      25V    27x16mmØ
HIGH TEMPERATURE ENDURANCE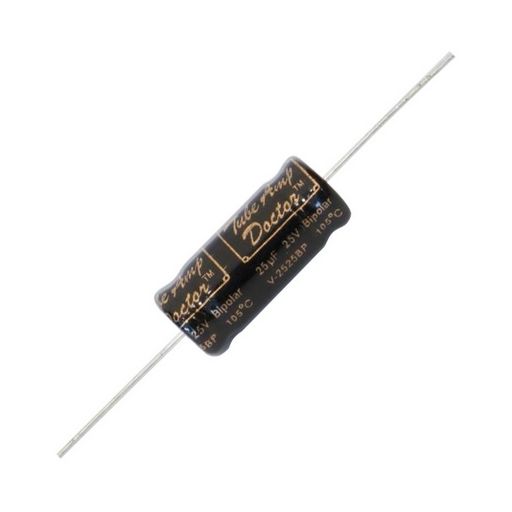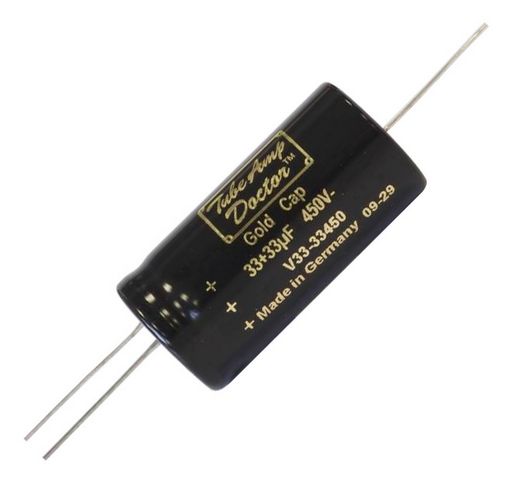 Code           VALUE     VOLTS     SIZE
V-550             5uF        50V    13x5mmØ
V-8475           8uF       475V    25x13mmØ
V-16475        16uF      475V    30x12mmØ
V-22500        22uF      500V    32x16mmØ
V-2525          25uF       25V    13x6.5mmØ
V-33500        33uF      500V    40x18mmØ
V-47500        47uF      500V    40x22mmØ
V-50100        50uF      100V    20x8mmØ
V-70350        70uF      350V    40x18mmØ
V-80100        80uF      100V    20x10mmØ
V-80450        80uF      450V    50x26mmØ
V-100350     100uF      350V    40x22mmØ
V-100500     100uF      500V    50x25mmØ
V-220350     220uF      350V    50x25mmØ
V-15-15450  15+15uF  450V    40x25mmØ
V-33-33450  33+33uF  450V    50x25mmØ